New Data Logger Feature, Math & Logic Triggers and Switches, PCIe-85 (416NHM30042A) Modbus Plus Adapter Support!
Version 8 includes new and updated products, new product features, and additional operating system support.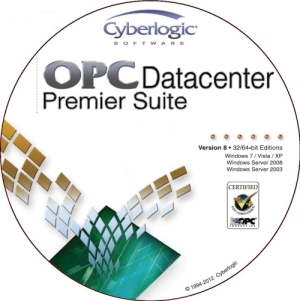 All Cyberlogic products come in both 32-bit and 64-bit editions, providing full support for all 64-bit operating systems:
Windows 10
Windows 8
Windows 7
Windows Vista
Windows XP SP3
Windows Server 2016
Windows Server 2012
Windows Server 2008
Windows Server 2003
New Feature: Data Logger
The DHX OPC Enterprise Suite, MBX OPC Enterprise Suite, OPC Crosslink Enterprise Suite, OPC Datacenter Suite, and OPC Datacenter Premier Suite products include the new Data Logger feature:
The Data Logger gives the Cyberlogic OPC Server the capability to log real-time data to a database for archiving, later analysis, and other purposes.
Logging data at the server reduces complexity and cost compared to client-based logging options. In addition, the OPC server can expose the internal status and diagnostic information of the logging operations as OPC data items which OPC clients can use to monitor and control the logging process.
Cyberlogic's Data Logger includes many advanced features, some of which are unique to Cyberlogic. Here are just a few of them:
Supports MS SQL Server, MS Access, Oracle, and MySQL databases.
Simultaneously log to multiple databases, which may be of different types.
Supports local and remote database connections.
New records can be generated at a fixed interval, on data change, when triggered by a data item, or a combination of all these methods.
Extensive set of standard trigger events that can be used to initiate logging.
Custom trigger events can be programmed using Math & Logic.
Memory and disk cache to store data records if the database connection is slow or unavailable.
New Feature: Triggers and Switches
All Cyberlogic OPC products include the new pre-programmed Math & Logic Triggers and Switches:
Triggers and Switches are pre-programmed Math & Logic applets that are used to detect and flag user-specified conditions. These applets require no programming knowledge. They are configured using dialogs.
Triggers are counters that increment whenever a time-based event occurs, such as a specific time of day, a specific interval passes, etc. Four trigger types currently exist: Daily, Weekly, Monthly, and Interval.
Switches test the state of items and signal true or false based on that state. Current switch types are Comparison, Duration, Quality, and Shift.
New Feature: PCIe-85 (416NHM30042A) Modbus Plus Adapter Support
Beginning with version 8.1, all Cyberlogic MBX Family products (MBX Driver Suite, MBX OPC Server Suite, MBX OPC Premier Suite, MBX OPC Enterprise Suite, and MBX Bridge Suite) include support for the PCIe-85 (416NHM30042A) Modbus Plus Adapter.
The PCIe-85 (416NHM30042A) adapter card recently released by Schneider Electric, replaces the legacy PCI-85 Single Channel (416NHM30030) and PCI-85 Dual Channel (416NHM30032) adapters. The PCIe-85 can be configured to either single-channel or dual-channel operation. The adapter supports the PCI Express (PCIe) bus, which replaced the legacy PCI bus. The new adapter provides better performance, is fully compatible with the original PCI-85 adapter, and it requires a single lane (x1) full height PCIe slot.
Back to Top